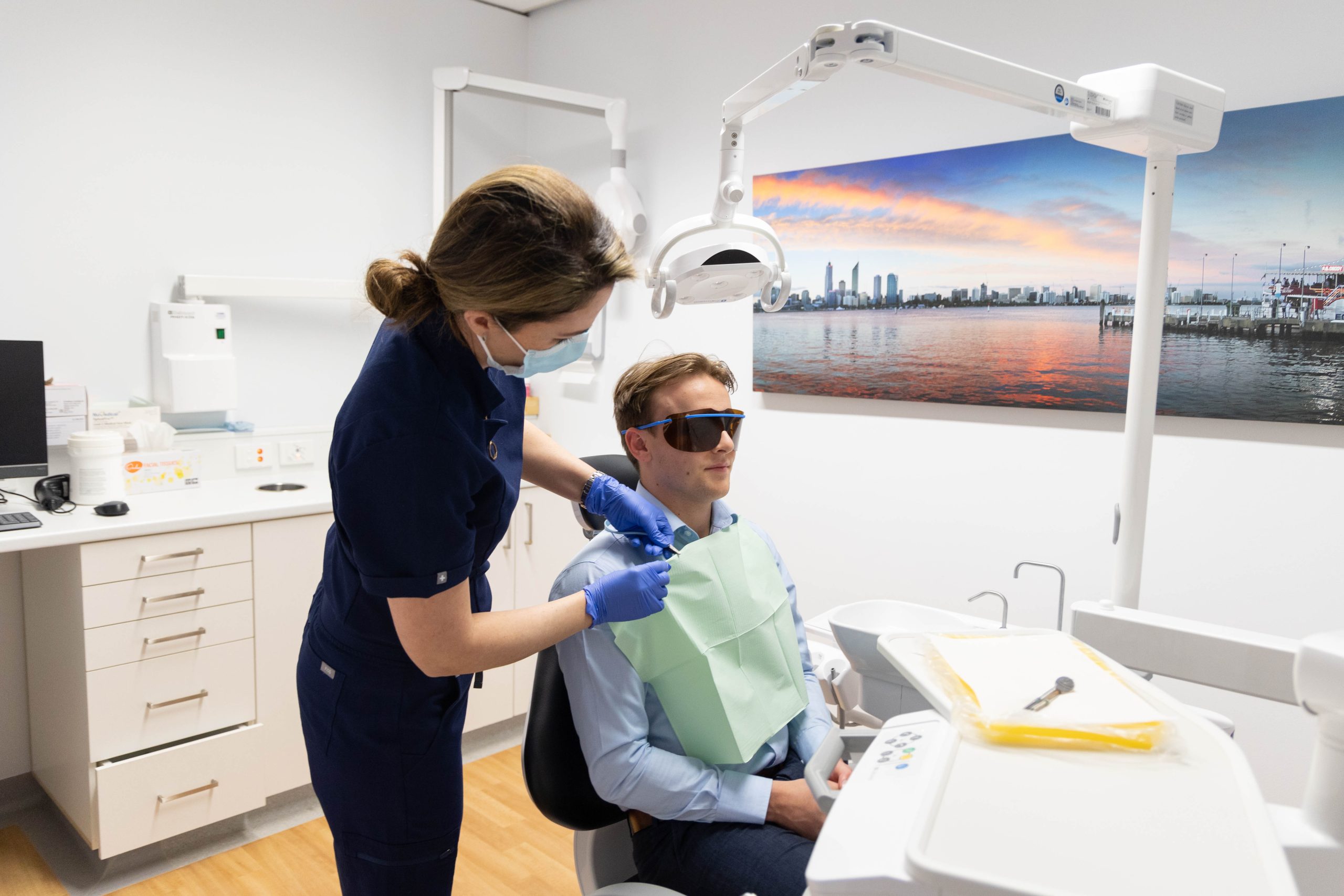 Our Services
Teeth Whitening in Perth
Teeth whitening is a form of cosmetic dentistry which has become an increasingly popular request in Perth. Painless and safe, it is the ideal way to help you achieve a whiter, brighter smile, at an affordable price. There are many benefits behind undergoing teeth whitening, however the main benefit being that teeth whitening doesn't require any removal of healthy tooth structure and is generally a very affordable way to help you achieve the smile you're after. Most of our patients who choose to undergo cosmetic dentistry are wanting to achieve a brighter smile for their wedding day, a special occasion, or to help diminish tooth spots and stains. At Perth City Dental, we can help you achieve a bright, white smile for any occasion. Better yet, because of our CBD location, you can achieve fast results during your lunch break or conveniently before or after work.
Tooth Whitening can be done in a single appointment in our Perth CBD clinic where tooth whitening gel is safely placed on your teeth and a UV light is used to activate the gel which speeds the teeth whitening process up. Throughout this process, all soft tissues (including gums, lips, tongue, and cheeks) are protected from exposure of this light and gel. The effects of teeth whitening range from patient to patient, but results are immediate, and patients are happy with the degree of whitening experienced. Alternatively, we can provide you with a take home kit. This kit involves custom whitening trays, with a gel. This method of teeth whitening is also effective and gives you the option to apply until you love the results.
How Much Does Teeth Whitening Cost?
Setting a standard price for teeth whitening is complex due to its personalised nature. Each patient's dental state and whitening goals differ, affecting treatment methods and costs.
Factors like the type of staining, chosen whitening procedure, and session frequency can vary.
Pricing Estimates for Teeth Whitening Services

| Service | Cost |
| --- | --- |
| Teeth Whitening | Starting from $199-$600 |
Frequently Asked Questions
Teeth whitening has become a popular way to prepare for weddings and other social events where people want to look their best. At home treatments can take time, so please ensure you leave enough time before the big day. In chair whitening achieves immediate results.
Teeth whitening isn't permanent. In most cases, teeth whitening can last from six months up to two years. We advise you to avoid smoking and staining food and drinks such as black tea and coffee, turmeric, red wine and beetroot. If you have a take home kit it is easy to reapply and Perth City Dental stock the top up tubes.
There is very little risk to your teeth. The main risk is burning of your gums if they are not protected. Our dentists at Perth City dental use special isolation techniques to minimise this. Sensitivity is minimal with the modern gels we use.
Teeth are prone to discolour and stain over time. In some cases discolouration can be caused by drinking coffee, tea and soft drinks. Other common causes are smoking, poor dental hygiene, genetics, ageing and some medications. Smiling is a common sight amongst Australians and many people are not happy with the colour of their teeth and therefore are not happy with their smile. This could be why teeth whitening in Perth has become very popular over the years. Impending special events or photographs may prompt you to pursue tooth whitening.
The benefits of teeth whitening in Perth are that it does not require any removal of healthy tooth structure. Having your teeth whitened can reverse years of staining and discolouration but more importantly it can improve self-esteem and confidence when it comes to your smile.
Perth City Dental has two different options of teeth whitening in Perth and recommend that you have a thorough clinical examination of your teeth and gums prior to the whitening of your teeth. We also recommend that you have a scale and polish, Fluoride treatment and have x-rays taken.
This is separate to the teeth whitening cost.  You can also discuss with the dentist if teeth whitening attracts any private health fund rebates.