At Perth City Dental, we offer a comprehensive range of cosmetic dentistry treatments to help enhance the look and feel of your smile. From teeth whitening, one of our more popular treatments, through to full mouth reconstruction, we can help you achieve a better smile.
Teeth Whitening
Teeth whitening is a form of cosmetic dentistry which has become an increasingly popular request in Perth. Painless and safe, it is the ideal way to help you achieve a whiter, brighter smile, at an affordable price. There are many benefits behind undergoing teeth whitening, however the main benefit being that teeth whitening doesn't require any removal of healthy tooth structure and is generally a very affordable way to help you achieve the smile you're after. Most of our patients who choose to undergo cosmetic dentistry are wanting to achieve a brighter smile for their wedding day, a special occasion, or to help diminish tooth spots and stains. At Perth City Dental, we can help you achieve a bright, white smile for any occasion.
Our Teeth whitening in the Perth CBD can be applied one of two ways:
Zoom® in-chair teeth whitening system. This is done in a single appointment in our Perth CBD clinic where 25% hydrogen peroxide gel is placed on your teeth and a UV light is used to activate the gel which speeds the teeth whitening process up. Throughout this process, all soft tissues (including gums, lips, tongue and cheeks) are protected from exposure of this light and gel. The effects of teeth whitening range from patient to patient, but results are immediate and patients are happy with the degree of whitening experienced. There is usually a side effect of sensitivity which can last anywhere between 24-48 hours. Complimentary customised teeth whitening trays are also supplied, together with a desensitising gel – to help control any sensitivity, and a teeth whitening syringe to 'top up' the whitening at home, at any time.
Take-home teeth whitening kit. This kit involves customised whitening trays and a carbamide peroxide gel (usually 35%), which you would use for approximately 15-30mins/day for 2 weeks. This method of teeth whitening is also effective, but the general feedback from most of our Perth patients is that compliancy is often the issue.
Prior to whitening, our dentists will always want to perform a thorough clinical examination of your teeth and gums, as well as taking x-rays if required, performing a scale & polish, and also a Fluoride treatment. These services are charged separately to the teeth whitening cost. You may wish to discuss with the dentist if teeth whitening attracts any private health fund rebates.
See our before and after teeth whitening photos below to help you understand some of the incredible results that you can achieve for your smile.
Before Teeth Whitening
After Teeth Whitening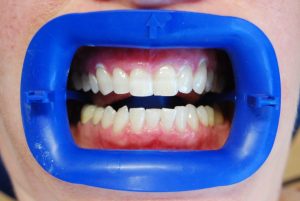 Affordable Cosmetic Dentistry in Perth
If you're interested in our teeth whitening services, simply contact the team at Perth City Dental for any cosmetic dentistry services or for your next teeth whitening appointment in the Perth CBD.