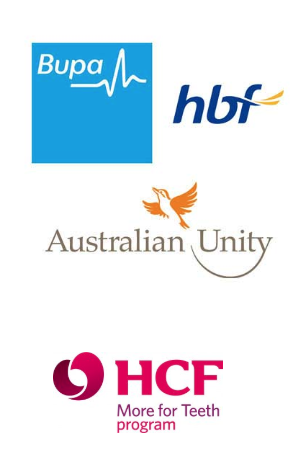 At Perth City Dental, we are the preferred dental clinic in Perth for caring and seamless dental care. We accept all major health funds for our services and offer our patients excellent rebates which can be conveniently claimed on the spot using our HICAPS system.
We can provide our patients with much higher rebates and a reduction in out-of-pocket expenses, as we are a participating health provider for BUPA, HBF, HCF and Australian Unity.
As a HCF dentist in Perth, we can help you maximise the benefits you receive from your health cover. When you chose our clinic as your HCF preferred dentist, you can be rest assured you'll receive quality treatment with a smile.
Did you know that some health funds will apply a loyalty bonus to members to cover the complete cost of your chosen dental treatment? To find out more about the loyalty bonus, contact your chosen health fund or your HCF, HBF or BUPA dentist in Perth today.
Our dental clinic is conveniently situated right in the heart of Perth CBD, and we're in very close proximity to the head offices of BUPA and HBF. This has enabled us to establish a strong relationship with these health providers, with the benefits being passed on to our customers.
As your trusted and preferred HCF, BUPA, Australian Unity and HBF dentist, Perth City Dental makes it easier than ever to say yes to superior dental health.
Contact Us
To get in touch with our caring team, contact us today using our enquiry form and we'll get in touch with you shortly to answer your questions. Alternatively, call us on (08) 9321 5721 to get started on improving your dental health with an HCF dentist in Perth today.